Why so Many Windows 10 Updates?
How to stay up to date, and limit your down time
Windows updates are important! By keeping your device updated you'll get the latest fixes and security improvements, helping your device run efficiently and stay protected. In most cases, restarting your device completes the update. Make sure your device is plugged in when you know updates will be installed. Part of the benefits of Windows 10 is that you don't have to buy new Windows ever again. New improvements come in the form of updates.
But we've heard a lot of questions from clients about Windows updates. Why are they so frequent? Are they always unpredictably lengthy? Can't they just run automatically when I'm out of office?
These are all valid questions, and we're going to put a few of them to rest today.
In Windows 10, you decide when and how to get the latest updates to keep your device running smoothly and securely. You'll know when you need an update because an update icon will appear in your tray, by your clock.

When you click on this update icon, your Windows Settings will open, presenting a list of the current updates, their status, and a few options for what you can do next.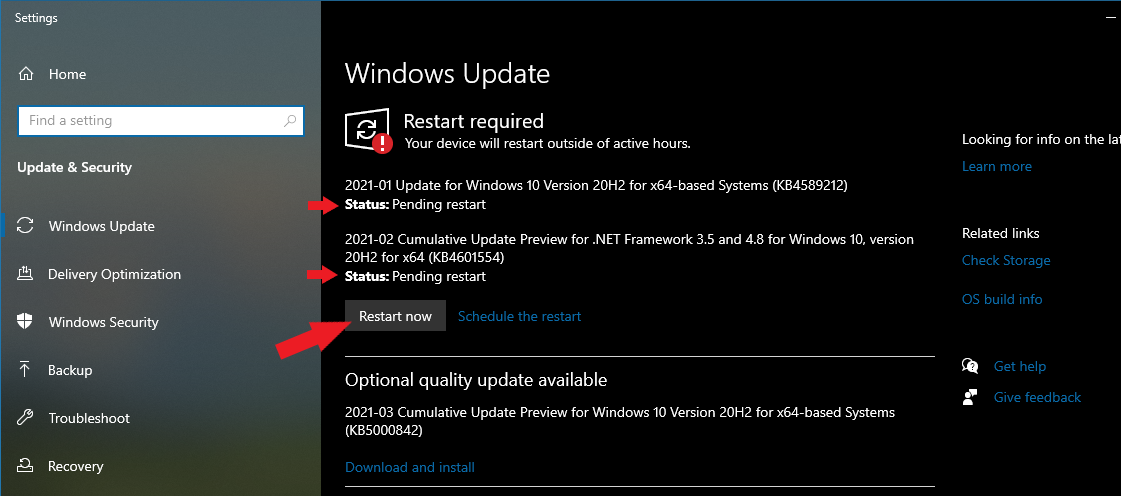 When you select Restart Now, the few updates with Pending statuses will be completed, and your device will power cycle. But let's say you're like me: 12 tabs open in 3 browsers, several open email drafts that you're trying to finish. Right now is really not the best time to Restart your device.
So let's schedule it!
In that same Settings window, next to the Restart Now button is another option entitled "Schedule the restart". This allows you to pick when it should happen. If work ends at 5PM, I can schedule the updates and restart to run at 5:30PM. That way I'm sure my workday won't be interrupted.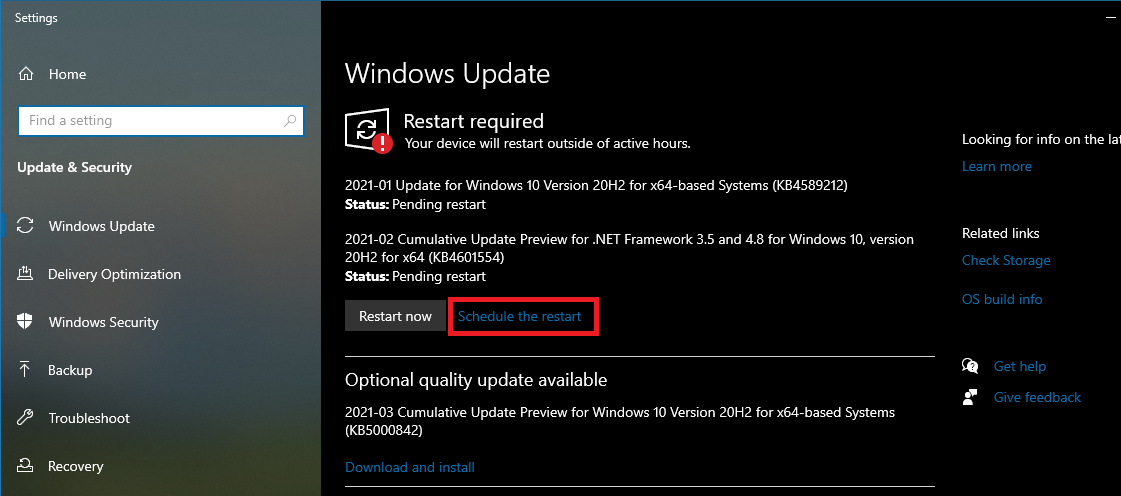 Maybe you've noticed that you log in and everything is closed as if your device restarted on its own. You're not losing your mind–That happens too! If you don't specifically schedule your restarts, updates will push to your device when left inactive for a length of time.
Not all updates are the same
Larger updates called Feature updates are typically released twice per year and include new functionality and capabilities as well as potential fixes and security updates. These tend to be the longer update wait times.
Smaller (but just as important) Quality updates are more frequent and mainly include small fixes and security updates. Windows is designed to deliver both kinds of updates to devices through Windows Update.
How long does it take?
The time required to download updates primarily depends on internet connection speed, network settings, and update size. Your device needs to be plugged in and connected to the internet to download updates faster. But like we said earlier, a Feature Update is one you'll likely be waiting on. A Quality Update is typically pretty quick.
Can I stop updates?
You can't stop updates entirely—because they help keep your device safe and secure, updates will eventually need to be installed and downloaded, regardless of your update settings. Here's how to temporarily pause updates from being downloaded and installed. Note that after the pause limit is reached, you'll need to install the latest updates before you can pause updates again.

Select Start > Settings > Update & Security > Windows Update . Then choose one of the following options:
Select Pause updates for 7 days.
Select Advanced options. Then, in the Pause updates section, select the drop-down menu and specify a date for updates to resume.
You're my IT company! Why can't you run them for me?
This is a great question, and one we have heard a lot. Though our team will recognize and remind you to run updates, we don't typically do them for you. In the past, we would push all updates on certain days of the week, or at certain times of day. But the truth is, we never know when all our clients are working, and that periodically created issues. Having end users like you, pick when updates happen, means less interrupted work time, less lost data, and less headaches all around.
We know you're busy– and updates and restarts seem like such a hassle. But hopefully these tips help running your updates feel less intimidating and more achievable on your schedule. And of course, if you want help walking through it– open a ticket to support@1234micro.com We're always happy to lend a hand.