Can You See Me Now?
Call, chat, meet, and collaborate virtually in one online calling app with Microsoft Teams.
Microsoft 365 Voice goes everywhere you go because it is part of Microsoft Teams. So if you have the Teams app on your phone, tablet, or computer – you can make and receive calls with that device as if it were a physical phone in the office.
With Microsoft 365 Voice and Video calling you can get a cloud-based phone system, audio conferencing, and a calling plan so you can replace your existing phone system with Microsoft Teams. You can procure new phone numbers for your company and users or port existing phone numbers over. Our technology helps your employees connect from any device, from any location, and get the calling features they need, backed by the security and reliability of Teams.
You might want the simplest solution—Phone System with Calling Plan. This is Microsoft's all-in-the-cloud solution that provides Private Branch Exchange (PBX) functionality and calls to the Public Switched Telephone Network (PSTN). With this solution, Microsoft is your PSTN carrier.
However, your situation might be more complex. For example, you might have offices in locations where Calling Plan isn't available. Or you might need a combination solution that supports a complex, multi-national deployment, with different requirements for different geographic locations.
As you can see below, the features you've come to expect from a cloud based voice solution can be found in Microsoft 365 Business Voice, but it can feel overwhelming to get started. That's where we come in.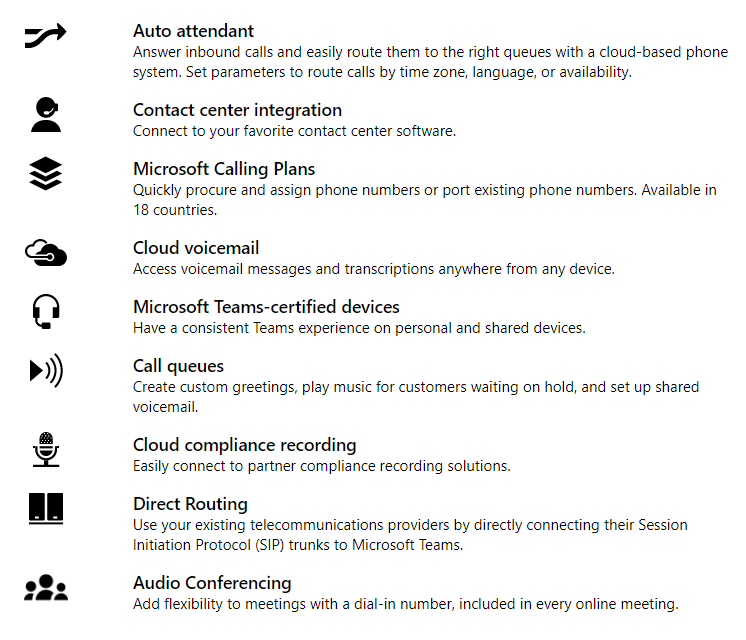 Microsoft 365 Business Voice makes it easy for small and medium organizations to turn Microsoft Teams into a powerful and flexible telephone system. It's a replacement for traditional telephony providers and in-house phone systems that can be difficult and costly to manage.
If you're ready to ditch your old phone system, Microsoft is offering two ways you can get started with Microsoft 365 Business Voice today:
25% off Microsoft 365 Business Voice for 1 year. This promotion runs through April 30, 2021 in the US, UK and Canada.
1-year free Audio Conferencing. If you're not ready to move your phone system to Teams, but want to add audio conferencing this offer is available in 70 countries through March 31, 2021.
For more information about how it works in a brief video , click here.
Get started today
As Microsoft sales experts, 12:34 is ready to help you add the secure, reliable, and rich calling capabilities of Microsoft 365 to your organization.
Contact 12:34 MicroTechnologies